MARAMOS
Maramos is a two, three-or-more-piece band comprising accordion, guitar, violin and clarinet. We double up on the instruments…. Our music comes from Eastern Europe – the Balkans, Greece, Jewish traditions, and is a lively mix of haunting melodies, wild rhythms and hypnotic grooves.
Maramos can perform at your event, whether a wedding, party, barmitzvah, or any other celebration. We are happy to play outside, and can perform amplified or acoustically.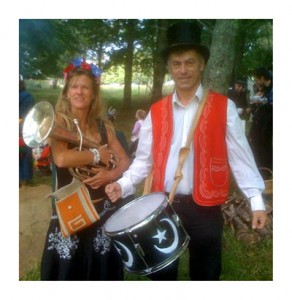 TESTIMONIALS
"I'm sorry it's taken me a while to get round to writing to you to say THANK YOU so much for playing at our wedding. It really was as magical as I had imagined.  You guys were just brilliant!!  You all looked amazing as well!!!  Also thank you so much for letting my little cousin Lennie feel and listen to the double bass!!
It was pouring with rain that morning so I was wondering how it would pan out but it was such a glorious summers day and I just can't emphasize enough how awesome it was having you guys play.  The style of music is right up my street.  So many people commented on how much they loved you guys.  You went very well with Pimms!!!" – Frances.
"Tim, Have received a lot of positive feedback in regard to the entertainment. We raised a substantial sum earmarked for the Village Hall. Thanks to you all for your musical contribution and will put the word around as and when further events are planned. Regards, David."
"Tim and Lisa….A big THANK YOU for making Ellie's party such a success…you were just the sort of music she wanted. You were brilliant at sensing the right music at the right time and we all really enjoyed listening to you, and dancing to the music too…. Many thanks again….and hope to enjoy your playing again somewhere soon." – Judith and Chris
"Dear Tim, I want to thank you and Lisa for playing at my party.  You were so good and used the space very well.   Lots of compliments from the guests and me! Do pass on thanks to Lisa too." – Christine.
Dark Eyes
"Hi Tim. Thank you and Lisa so much for your music last night.  It was really lovely and much appreciated – I have had some very warm comments about your playing and I shall certainly recommend you. I was thoroughly enjoying it!  The style was just what I wanted and you were great about joining in with the songs and I did appreciate your collecting the music in advance.  So many thanks to you both." – Rosalind.
To contact Maramos, please see my Contact and Links page