MUSICAL BACKGROUND
I began playing guitar in 1979 aged 16. I have been involved in many bands and projects over the years, on different instruments and in

different roles. I don't read music to performance standard and am mainly self-taught, as is traditional in the styles I have learnt. Here are the main points.
Instruments Played
Electric and acoustic guitars, electric and double bass, soprano and bass clarinet.
Some mandolin, mandola, tenor banjo, percussion, voice. Also sound engineering, music recording and editing.
Musical styles
Rock, Blues, Klezmer, Greek, Bulgarian, Musette, Gypsy Swing, Celtic, Bluegrass, Punk, Surf, Jive, Highlife, Tango, Latin, Old Time, Ska, and various original styles.
General experience
I have -
- taught guitar, double bass and clarinet, and have been involved in music/dance/theatre workshops.
- done live PA/sound engineering for individual bands' gigs, and for festivals comprising many acts.
- played lead and rhythm guitar, electric and double bass, clarinet, tenor banjo, and sung in several bands doing covers and originals. These have included acting as backing musician for others, and include performance at various charitable recordings and concerts. I have played music for theatre shows, cabaret shows, and street theatre performances, which have included costume, makeup and theatrical performance. Also music with a theatrical flavour.
- been involved in home and studio recording of my projects, and those of others. Sometimes, this has included creating artwork for various purposes.
- written music and lyrics for performance and recording.
- been responsible for managing and promoting some of the acts I have been in.
- performed all over the UK, and in France, Holland, Belgium, Spain, Germany and Poland. Venues I have played in include many pubs, arts centres, dance halls, private functions and festivals, including The Millennium Dome, Glastonbury Festival, The Royal Albert Hall, The 100 Club, London City Hall, The Green Gathering, Riverside Studios, and the street.
- appeared on television and radio in various guises, including DIY SOS, Newsnight, and news programmes, and BBC local radio. Also contributed to the soundtrack for 'Guns And Beauty - A Year In The Balkans', by Paul Conroy.
- run a Gypsy Swing session in South Devon for two years with Toby Morgan, and have assisted with other folk and Eastern European music sessions.
SOME PROJECTS I HAVE BEEN INVOLVED IN...
Midnight Fairground - Mae Karthauser, composer and bandleader, and her band, performing songs of mystery and dreams.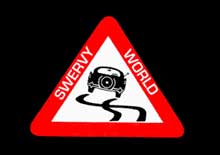 Swervy World - Famous street band blending comedy, theatre and rock-solid music.
Parzival - Promenade theatre performance at Sharpham House near Totnes, weaving a magical story of myth, loss and redemption.
POM - Amazing two-handed player of a nylon-strung guitar, film-maker and recording artist.
And many more.......